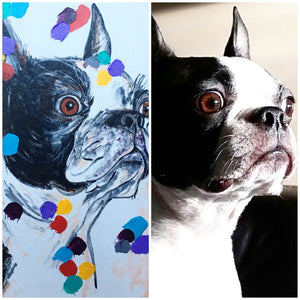 Pet Portraits
Finishing Touches by Caitlin Krumm
Regular price $200.00 Sale
PORTRAITS OF YOUR PETS
Provide a photo of your pet and receive an original piece of art that captures your furry family member's face in a new way.
Create a listing memory that will make you feel like your pet is right there with you.
Starting at $200 one pet per canvas.
Inquire about larger painting with additional pets.
Select your size and pay in full to get right on my painting calendar.
Or email caitlinkrumm@gmail.com I collect 30% up front, and then get started. The remaining 70% is due when the art is completed.